Interior design and styling have always been my passion. As a very visual person, my mood changes easily depends on what I see around me. That's why I am very meticulous in term of choosing pieces for my home (and on myself, obviously). So now I will share with you some pieces from my home, and where you can find them or similar items to them.
Most of the pieces here hold certain memory to me, either they were given by special people or hauled during my travels.
The main colour here is of course, the royal blue. This colour looks extremely beautiful on satin and velvet fabric, especially on your sofa. Make it an instant centre piece in your living room!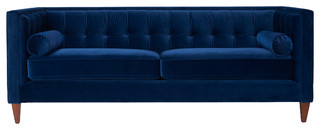 Then the second piece is a small fluffy rug. Ours is a genuine sheepskin rug that was handed-down in the family, the one that was once kept my mother-in-law warm. You can always get a faux fur ones, depends on your personal choice.
Next ones, a touch of gold or brass material here and there to balance the coldness from the blue out. Although it's back to you again, what kind of ambience would you prefer: cool tone or warm tone. If you want your room to be cool toned, crisp, and serene, you can opt for silver. Personally, I want my room to still feel cozy and warm, hence I choose gold.
The vase is from Ittala
The tray is from H&M
The blue glass pot is from H&M
The deer decoration piece is also from H&M, they don't have it anymore 😦
The hexagonal jewellery container is from an art shop in The Hague
The perfume, you know where to get it (of course it depends if you like the scent or not) :))
You can always warm up the space even more with some nice scented candles (or not scented, as you like). I also brought home those blue matryoshka dolls from Russia. They are adorable! Ah, I forgot to mention the golden spoon, we got it from Lagerhaus in Stockholm!
That's it for now, hope you enjoy this post as much as I do.
Worry not, I still have some more interior tips coming up next 😉
So, stay tune!
xxHegia